Have the Gunners managed to catch lightning in a jar?

 
Take a look and decide for yourself as we examine the alleged Arsenal 2023/24 shirt.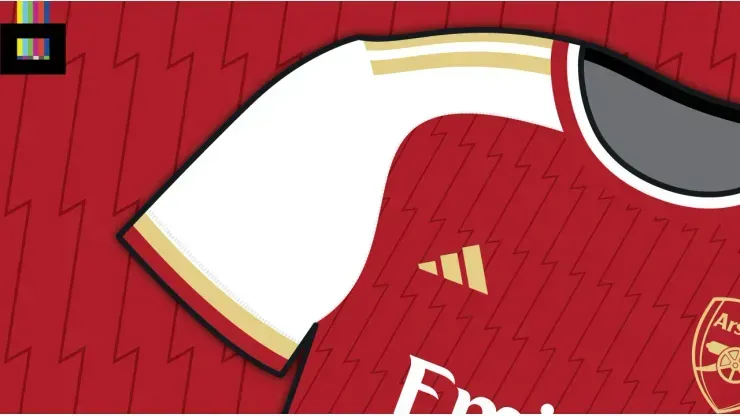 Various leaked images have revealed what appears to be the next home shirt for Arsenal FC. We've created an approximate version of the new top using the magic of modern technology.
Raglan sleeves are used on this shirt, meaning the white sleeves reach up to the collar. The shirt's red body is covered with a thin, zigzag lightning-bolt pattern in a slightly deeper red.
The Arsenal crest and Adidas logo are in gold, as are the shoulder stripes, sleeve detail, and the cuffs on the shirt. This reminds me of the trim from the final Highbury season 2005/06.
The back of this shirt is reminiscent of the bolt bittern with a smaller, wider, gold "tag" near the neck. In this area of gold are the letters AFC. The shirt has a thin white stripe that runs down the side, but it is not visible in all photos. The ring collar is adorned with a thin white trim.
The Emirates logo is white on the front. No word on the name/number of colors yet.
Reviewing the Arsenal Kit 2023/24
The gold logo and crest on red with a monotone look are quite nice. It's a pity they didn't go with the Emirates logo. The gold looks great against the white sleeves, but the combination of the three colors is strange.
This design has a certain clunky feel to it. It could be the shoulder stripes in gold that don't extend all the way to the sleeves. The lightning bolt on the upper back is also a bit awkward. No doubt, it has the DNA of Arsenal. But, somehow, it feels a little… off. It looks like the sleeves of a Madrid shirt were cut off and sewn onto an Arsenal top. You could call it a kit kitbash.